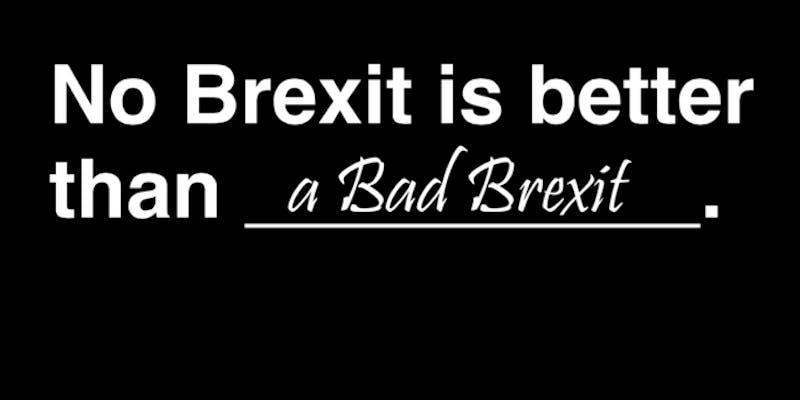 Book your free place – click here
In December, Best for Britain organised a brilliant information evening here in Doncaster. Most of us who attended wanted to take action to #StopBrexit, and one of the simple actions suggested by Best for Britain was to organise a letter-writing 'party'.
The event will run from 7pm to 9pm on Monday 22nd January and will be held at C-View on Church View, in Doncaster. Information about parking is provided below.
What is a letter-writing party?
Life gets busy and even with the best of intentions, it can be tricky to find the time to sit down and put our thoughts and concerns about Brexit into words and send a physical letter to our MP. So, on Monday 22nd January 2018, we will all get together and use the time to write a letter to our respective MPs. While most of us live in Doncaster, you are welcome to join us wherever you live and whoever your MP is. The more letters we can get to MPs, the better!
We will use the time to write the letter, supporting each other as needed, and will make a commitment to posting it the following day (I will be happy to collect letters and post them all together in a big envelope, if people prefer that. The important thing is to ensure they all arrive on the same day, for more impact).
Is there a template letter? What do we write?
The important thing is for each of us to explain to our MP why this matters to us; to share our personal story of how Brexit has affected our family, friends and local community, and the concerns we have for the future.
There are just three key points to include in the letter:
We need to prove we are our respective MP's constituent, so we need to put our full name and home address on the letter, with postcode.
Include the phrase "I am writing to urge you to publicly support a No Brexit option". This is because the government need to see growing numbers of MPs (and the public) supporting the option to turn things around and to not only reject a bad deal, but to reject it with the option to reject Brexit altogether.
Send the letter to the MP's parliamentary address in London: House of Commons, London, SW1A 0AA
I want to take part, but I can't make it that evening
That's ok – we all have busy lives! All the information you need to take part is on this Eventbrite page, so just make a commitment to writing the letter and posting it on 23rd January 2018, the same day we'll all be posting our letters. You can also still be a part of the event by taking part in social media activities before, during and after the event (see below). Let people know you are taking part!
Does it cost anything to attend?
The event is free to attend. Lynette Chipp's husband is making his gallery space available to us at C-View. There is a cost of £20 associated with this for the two hours, but I am covering that as a donation to the #StopBrexit cause. Tea / coffee and biscuits will be available for a small contribution.
Please REGISTER for the event here on Eventbrite, though, so we know how many people are coming.
If you would like to financially support the campaign for #NoBrexit, you can donate to Best for Britain (click link), or to any of the other organisations and campaigns, such as Leeds for Europe, Britain for Europe, The People's Challenge, or any other of the many events, campaigns and groups that exist with the sole purpose of stopping the UK from taking the most destructive step in recent history.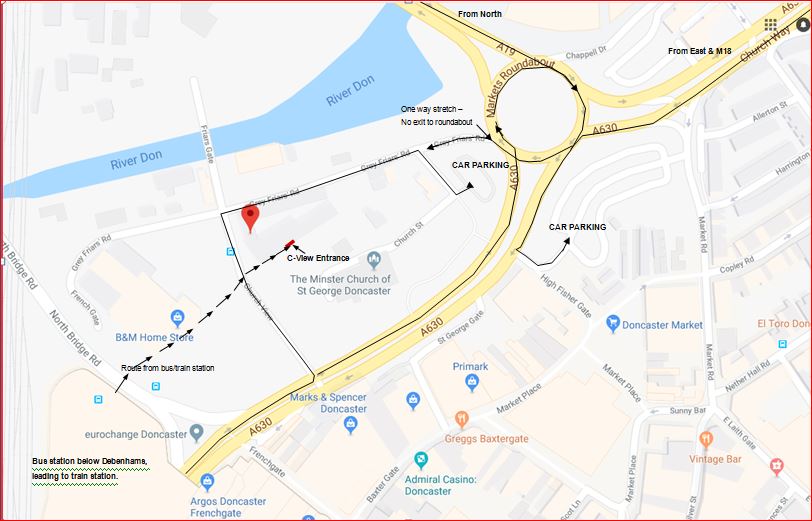 Lynette has kindly provided the above map and following directions:
"The car parks I've marked are the ones we recommend as being fairly safe and well lit within walking distance. There is a car park opposite the building at B&M but you are only allowed 90mins in there free and they are strict about that. Another car park across the canal bridge is lonely at night and a known theft risk. The C-View building has a car park wrapped around it but the lighting is very poor."
Lynette's husband has also kindly offered to wait by the door/entrance to direct people in on the night.
Is this event affiliated with a political party?
No, the best way to #StopBrexit is to support MPs who support retaining a No Brexit option, regardless of party affiliation.
Spreading the word
We want to make sure that as many letters reach our MPs as possible, so please share this Eventbrite booking page with as many people as you can: Family, friends, colleagues and acquaintances! If you are on Facebook / Twitter or other social media, use those to spread the word, too (more on that below)!
Social Media
Social media can be incredibly powerful. Let's put it to good use! Let's share information about this event beforehand, during the event itself, and afterwards. Let's let our MPs know, publicly, that they will be getting our letters!
Here is some useful advice about social media from Best for Britain (with a bit of Donny-specific info from me):
Most MPs will use social media – particularly Twitter and Facebook. When you see something in your community – from food prices going up to local businesses closing and anything else that has been affected by Brexit, take a picture and Tweet/Facebook at that MP. Here's what you should do:
On Twitter, you do this with the "@" symbol. You need to write something before the "@" symbol in the Tweet, or it won't be public. For example, "Hey @MP…". use the #NoBrexit #BestforBritain hashtags. Also use the #FBPE hashtag on Twitter (follow back, pro Europe). We could also start a Doncaster-specific one. How about #DonnyAgainstBrexit ?
On Facebook, it's best to post directly to your MPs page. In the caption, explain the photo, let them know this is why you want them to publicly support a No Brexit option and use the #NoBrexit #BestforBritain hashtags. Here's an example: A photo of a food item that you've noticed has increased in price, with the caption "Hey @JohnDoeMP – bread now over £1 because of Brexit. It's time #NoBrexit option was on the table! #BestforBritain"
Similarly, use social media to make your MP aware of this letter-writing campaign and any other actions you're taking to stop Brexit (e.g. attending stalls, marches etc).
Comment on, like and share other people's posts about this event!
Here are the social media details for Doncaster MPs:
Don Valley:
Rt. Hon Caroline Flint MP Twitter: @carolineflintmp Facebook: www.facebook.com/CarolineFlintMP
Doncaster North:
Rt. Hon Edward Milliband MP Twitter: @ed_miliband Facebook: www.facebook.com/edmiliband/
Doncaster Central:
Rt. Hon Ms Rosie Winterton MP Facebook: www.facebook.com/RosieWintertonMP/
Constituencies outside Doncaster:
Find your MP by entering your postcode here.
My MP already supports our cause, do I still write to them?
Yes! It's good for them to know they still have the support of their constituents, and it's always good to thank them for putting themselves out there and standing up for what is right.
Other useful information
This is how Brexit can be stopped (article in the Independent by Eloise Todd, CEO of Best for Britain campaign)
More tips from Best for Britain on their latest blog post.
Can Brexit be stopped? Free public meeting by Leeds for Europe on Saturday 10th February, with guest speakers:
Former Europe Minister and Labour MP, Denis MacShane and The Rt. Hon. Lord Wallace of Saltaire (Lib Dem) will be joined by Dr Gregory Messenger of the University of Liverpool Law department.